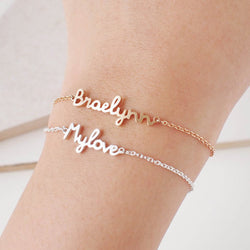 Do You Love Your Partner? (Or yourself!)
Show them your love and give them your name on a bracelet so they can hold you close forever. 
Our Custom Name bracelets are the perfect gift for anyone you love and the perfect trendy accessory to add to any outfit. Also, a great gift for guys to wear your name on their wrist! Each bracelet is plated with the finest 18k Gold and handcrafted to your wish. Whatever you wish to represent, make it your own with our custom bracelet.
Please remember to include the custom name that you would like. There are no spaces so please if you type two words or more, keep in mind they will be together. 
Fine 18k Gold Plated
Available In: Gold, Silver, Rose Gold
Personalized Text
Shippint: 11-12 days