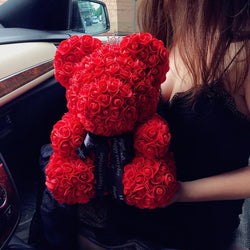 Features:
Includes a beautiful display box to showcase these adorable rose bears - sold separately
The perfect gift idea and symbol of sophistication and timeless love. Our artisans are devoted to producing excellence and ensuring these rose bears are carefully handmade using high-quality materials.
Stands as a symbol of love, admiration, happiness, and achievement. They are perfect for any occasion and are designed to give that wow factor!  
  Order Today And Receive FREE SHIPPING!!
"I love everything on your store, the jewelry is absolutely beautiful!"
★★★★★ Amanda S. OR
"Just got mine in the mail and it's so cute! Thank you!!"
★★★★★ Reily F. NV
"Wanted to get something for my girlfriend but ended up getting 5, she loved them all!"
★★★★★ Aaron M. NY